Hockey Parents: How to Prepare for a Day at the Rink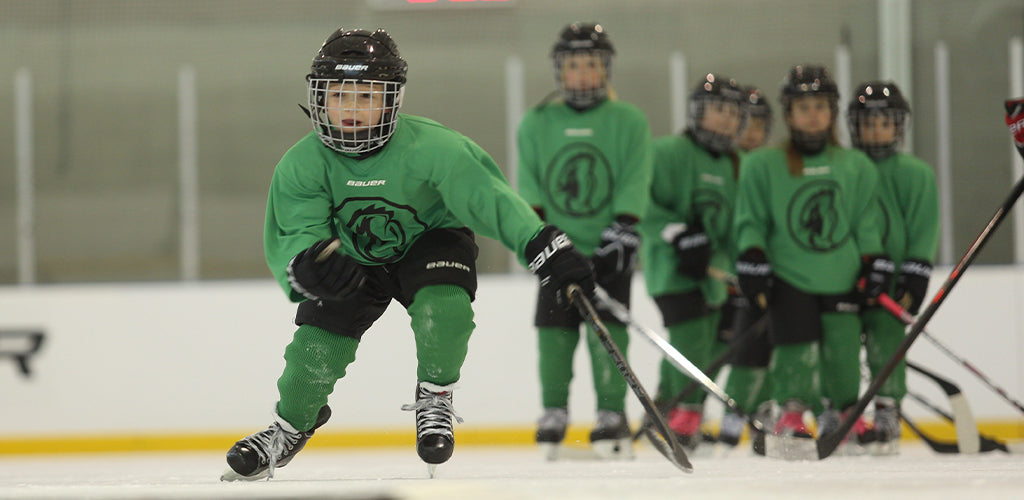 Hockey is a fun, family-friendly activity that offers people of all ages an opportunity to make new friends, get physically active, build important skills like hand-eye coordination, strategic thought, and create memories that last a lifetime. Whether you are a new hockey parent or a well-seasoned one, remembering everything you need to pack and prepare for a day at the rink can be daunting so, our Source for Sports experts are here to help at every stage of the game.


Pre-Game Day Prep


When was the last time your child's skates were sharpened?
To ensure the perfect sharpness for their entire game or tournament, it's best to get skates sharpened as close to the game-day as possible. There's no worse feeling than remembering as soon as you pull up to the rink and then find yourself scrambling at the last minute – especially if you're in an unfamiliar town or city. Always use our store locator tool to get skates sharpened at any of our local Source for Sports stores.

Eat. SLEEP. Hockey. Repeat.
Getting enough sleep and being well-rested is crucial to any athlete's performance. As a parent, having a routine and making regular sleep a priority will be a winning decision for the whole family. If there's a big game ahead, plan to wind down early and do some relaxing activities to reduce any pre-game anxiety.

Proper Nutrition
With constant changes in speed and direction, ice hockey players need a large amount of fuel to keep their energy high during the game. Good eating and drinking habits can be the key to better performance for both recreational and elite athletes. Advantages of proper nutrition and hydration for hockey players before, during and after a game include:


Tops up energy before a game

Delays fatigue during the game

Prevents decline in skill performance and mental concentration on the ice

Repairs the wear and tear on muscles

Provides nutrients to recover and prepare for the next training session or game

Packing List
As a parent, it's important to plan every day (sometimes it seems like that's all we do) but planning as a hockey parent brings on its own set of challenges (especially if you have multiple kids: one on the ice and one with you in the stands). Here are a few items you'll want to bring with you to the rink on game-day:
Layers – Usually local rinks are a little on the chilly side so you'll want to layer your clothing so that in the off-chance you get a little warm, you can peel off layers.
Hot Beverages – Having a nice hot beverage with you at all times will make your experience in the stands much more enjoyable. Some crowd favourites include coffee and hot chocolate.
Blanket – To go along with your coffee/hot chocolate, a blanket is a solid option, especially if you are going to be sitting on metal (and probably freezing) bleachers for one or multiple games.
Snacks – Packing a few snacks is a great way to save money and avoid buying unhealthy convenience foods because game after game, this could start to add up! Some well-traveled snacks you could include are fruits & vegetables (apples, pears, carrots, clementines), popcorn, chips, pretzels, granola/protein bars.
Money – If you don't have time to pack the snacks or the aromas from the arena snack bar are hitting your taste buds, you'll want to make sure you bring some money with you to grab those arena french fries, hot dogs, or cheesy nachos! Bring some spare change for the vending machines too if you have one of your other children with you!
Hand Sanitizer – Always a good idea to have "on hand".


Proper Equipment
Even if your child says they checked for all their gear, check it again anyways. There's usually a stray sock missing or they've forgetting to repack something like their water bottle or mouth guard. If you need to reference a checklist for this, have a look at our other blog: How To Pack Your Kid's Hockey Bag to help you out!

Enjoy the game

It's officially gametime. Time to breathe, sit back, and enjoy.
Some parents tend to get a little "passionate" about different aspects of the game, whether it's about the calls of the officials, the fairness of coaches, opposing players' behaviour, or other parents, it's best to stay out of the gossip. Ignore the negative talk from other parents (both on your team and the opposing team) and do your best to enjoy watching your child play the game.


Bring a positive attitude
Remember to be mindful of your actions and words. How you act around your child(ren) and the attitude that you bring to the rink will be what your child remembers, not whether they won the game or not. Games are memorable yes, but your actions as a parent teach your children about life. Don't treat your child's game as you would the game of a professional team that that you support.

At the end of the game, always congratulate your child and their teammates for their efforts, teamwork, sportsmanship, and achievements – no matter their age or skill level.

Enjoy these moments and your new hockey family – including yours at Source for Sports!


Source for Sports can help you make the transition from new hockey parent to veteran hockey parent. Check out some of our other  Tips for Hockey Parents to learn more!
---
For expert advice on hockey gear and equipment that is right for your game, level of play, and budget, come see us at your local Source for Sports hockey store near you. We Fit Your Game.
Sign Up for Source Nation Emails
Join Source Nation to get the latest news on product launches, Source Exclusive product lines, tips and tricks for parents and players, and more!