How To Choose The Right Goalie Stick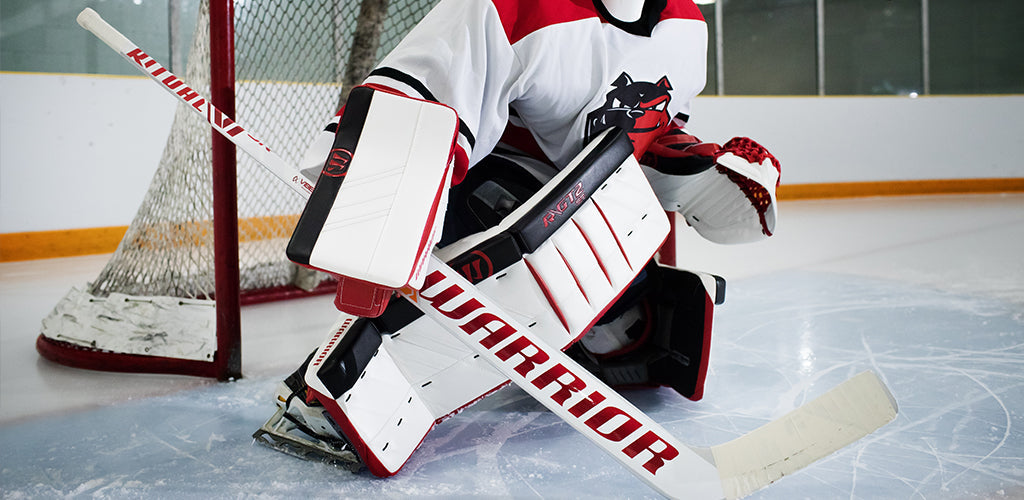 As a goalie, you know that your stick is one of the weapons in your arsenal to keep the puck out of your net.
Having the proper paddle length is crucial to get you into the proper square stance to close any holes and effectively block pucks, while keeping you mobile and fast in the crease.  Often goalies get a stick that may be too long for them, as they are tempted to determine the paddle size they need while in an upright stance, rather than in the butterfly position when you will be using the stick to block shots.
See All Goalie Sticks & Paddles
When in the upright stance, you predominantly rely on your body to block any incoming pucks.  Your stick blade does not have to be touching the ice in this position – moving quickly and freely from side-to-side and forwards and backwards and using your body, blocker, catcher and pads to deflect pucks is the typical technique.
You will use a stick save when you are in the butterfly position.  You want the stick blade to contact the ice surface to cover the 5 hole between your thighs, while at the same time, having your body in a position to keep the 6 hole between your arms and torso as small as possible.
If your paddle is too long, your stick hand will be pushed higher on the side of your body, causing your to raise your shoulder on that side.  When your shoulders are uneven and your torso is not square, you open up the 6 hole under that arm, as well as restrict your maneuverability and reaction time.  
With the proper paddle length, you remain square on the net in the butterfly position, with even coverage on both sides of your body.  Your movements won't be slowed down or hindered because you will be balanced, so you can easily transition from one position to another in a comfortable manner.
---
Source for Sports goalie experts speak your language. Let our professionals set you up with a goalie stick that will help you make save after save for your skill level and budget. We Fit your Game.
Sign Up for Source Nation Emails
Join Source Nation to get the latest news on product launches, Source Exclusive product lines, tips and tricks for parents and players, and more!