How to Properly Fit a Hockey Helmet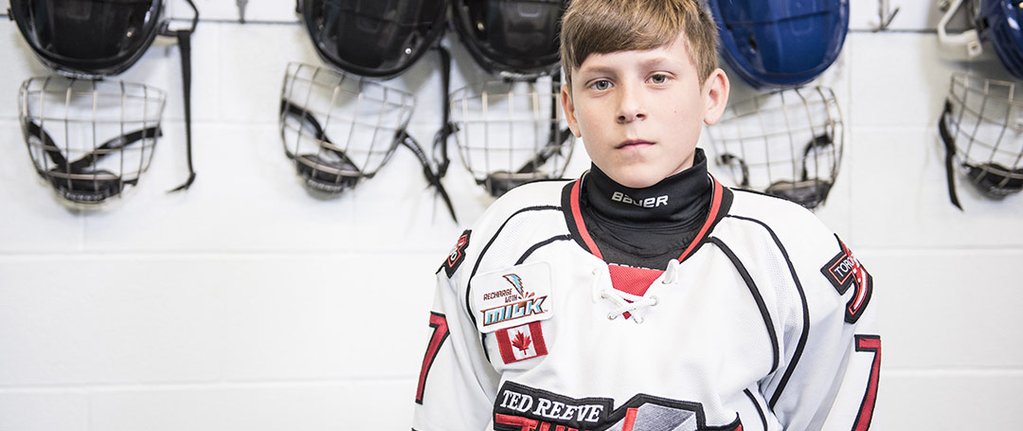 Helmets are one of the most important pieces of equipment in any sport and it's essential that you protect your most valuable asset. No helmet can completely prevent concussions, but the first step in head safety is to find the helmet that best fits your head and level of play.

No two heads are the same, and all helmets fit differently. The helmet that's right for you is the one that fits.
Bring your helmet into any Source for Sports Location for a free inspection and fit adjustment.
A Proper Fitting Hockey Helmet Begins with the Fitting Experts at Source for Sports
Pro-Formance Advantage Custom Fitting system is a system designed to put you in the right helmet for your game, and considers many factors such as:
What level of hockey do you play, and how often? Elite level players who play contact hockey require a helmet designed for that purpose. However, even if your child is just starting out in hockey, you need to ensure the head is well protected – after all, learning to play means there will be falling and tripping.
How often do you get your hair cut? Thick hair and pony tails can give the impression that helmets are fitting smaller than they actually are; a skullcap is a good option for keeping hair out of the eyes, and close to the skull under the helmet.
Never buy a helmet to "grow into". A helmet must fit snugly, with one finger width above the eyebrow and ample coverage of the temples and ears. A helmet that shifts on the head does not absorb impacts.
Are you looking for a helmet and cage combo? If so, the helmet and cage must work together as a unit on your head and face to provide proper protection. Helmets are fitted to head size, and masks are fitted to face size. It is not unusual for a player to have a different mask size on their helmet. The chin cup must be secure and the cage must align with the J clips on the helmet to minimize movement, thereby reducing shock traveling from the face to the skull.
Are you ready for a visor? When mounting a visor, there should only be about 1.25 cm between your nose and visor. The closer to your face that the visor is, the less likely you are to be hit in the eye with a stick or puck.
Helmet Fitting Tips:
The best helmet for you is the one that fits the best
The helmet should fit snugly all around your head
You should have one finger width between your eyebrows and the helmet
The chin strap should be always be done up
The chin cup should fit snugly and directly on your chin
The helmet J Clips should be properly aligned with the facemask to hold it in place and absorb any impact the facemask may take
Shop All Hockey Helmets
If It Doesn't Fit, It Doesn't Protect. Bring your or your child's helmet into one of our Source for Sports hockey stores to have it inspected free of charge.
---
For expert advice on hockey gear and equipment that is right for your game, level of play, and budget, come see us at your local Source for Sports hockey store near you. We Fit Your Game.
Sign Up for Source Nation Emails
Join Source Nation to get the latest news on product launches, Source Exclusive product lines, tips and tricks for parents and players, and more!