Superfeet Insoles for Hockey Skates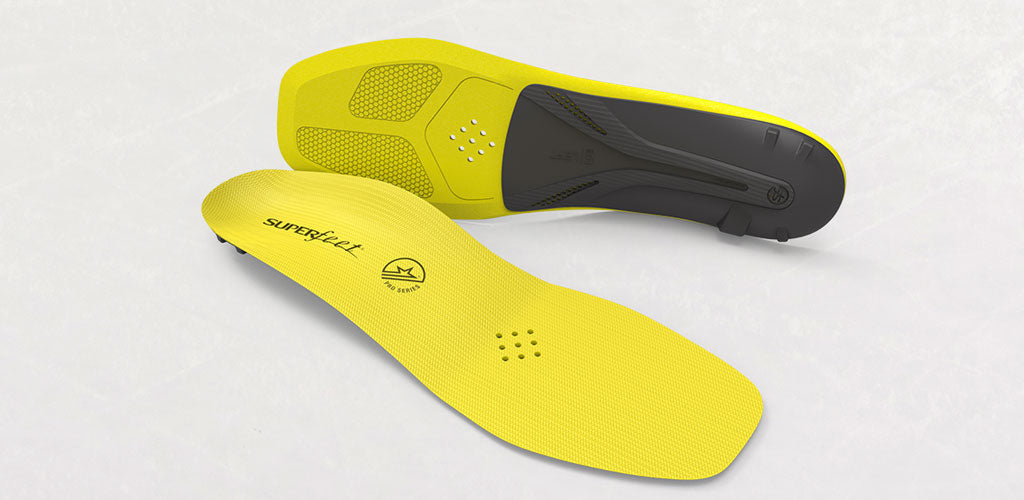 Every hockey player wants to be the fastest on the ice and the first to the puck using maximum power while not depleting energy.
A critical component of your performance is that your hockey skates are fitted perfectly and are appropriate to your level of play. 
See All Superfeet Insoles For Hockey Skates
What if you could increase your speed, create more powerful strides on the ice, improve your balance and reduce leg recovery time with one addition to your skates? As part of the Pro-Formance Advantage Custom Fitting System, our hockey professionals will recommend the "Yellow Superfeet", an athletic insole for your hockey skates. Maximum stride extension is a result of your body pushing energy through your skate to the ice. If there is any movement within your skate or if your body in not aligned properly, there will be loss of energy and power in your skating technique, which will affect your performance and ability to maintain your energy throughout a game.
By adding a hockey boot specific SuperFeet insole to your skate, we can eliminate any pronation or supination of your foot, as well as correct heel and arch issues that create negative space within the boot. Once your foot and the skate boot are working as one unit together, you will be able to tap into the technological features of your skate that will elevate your performance.
How Superfeet Skate Insoles Work
Superfeet products are engineered by podiatrists based on the principles of podiatric medicine. They are designed to biomechanically align the bones and joints of the foot into a neutral position through a shaped heel cup called the Encapsulating Stabilizer System (ESS) and an arch support system.
Proper body alignment always starts at the feet; your feet are the foundation of the entire skeletal system and will affect your whole body's alignment When your ankles and heels are properly aligned, knees, hips and back will also be in the correct position, thereby taking stress off joints and muscles and improving support. Without proper foot support, you will have a less efficient stride resulting in increased stress on the feet, ankles, and knees which can cause foot pain, fatigue and risk of injury.
The ESS cradles your natural fat pad under the heel bone for improved cushioning and comfort in the skate, while the heel-to-toe profile improves the energy transfer between you and your skates for greater power, control and comfort. The angled stabilizer cap provides constant contact with the outsole for ultimate control and energy transfer.
Why Yellow for Hockey?
Although Superfeet are available in several styles, the Yellow Superfeet are designed specifically for a hockey skate. The low-profile full foam length anti-bacteria insole has the ESS cap to deliver optimal support underfoot and increase energy transfer from the foot to the skate onto the ice. These insoles offer the only "trim-to-fit" design, specially made to follow the contours of a hockey skate, as well as "heat-moldable" capabilities to work with skate ovens for a custom skate fit. The Yellow Superfeet also have a Diamond Venting system, which are strategically placed vented holes in the middle of the insole to stimulate air circulation and control moisture within the skate.

Superfeet offers a 60 day warranty and satisfaction guarantee, and with the Source For Sports Pro-Formance Advantage Custom Fitting System, you will be able to utilize all the attributes of your skate to elevate your game.

Elevate your speed and confidence on the ice while improving the fit and comfort of your skate with Superfeet Yellow insoles for hockey skates.
The Pro-Formance Advantage Custom Fitting System is only available at Source For Sports.
---
For expert advice on hockey gear and equipment that is right for your game, level of play, and budget, come see us at your local Source for Sports hockey store near you. We Fit Your Game.
Sign Up for Source Nation Emails
Join Source Nation to get the latest news on product launches, Source Exclusive product lines, tips and tricks for parents and players, and more!