How to Ensure Your Child's Hockey Helmet is Safe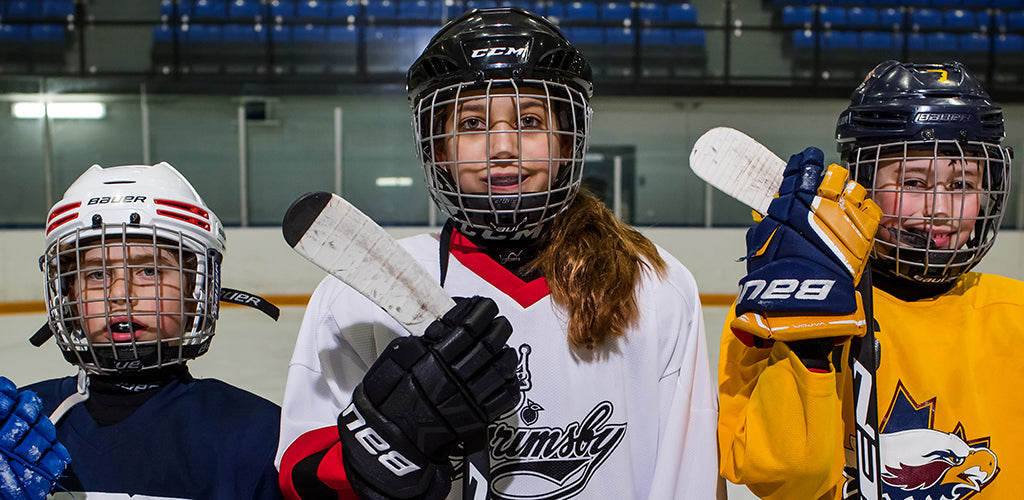 Make Sure The Hockey Helmet Fits Properly
The best way to watch your child play hockey is with the added comfort of knowing their equipment has been fitted properly to ensure maximum on-ice protection.
Although beginners won't be playing contact hockey just yet, there are bound to be some slips and falls as a new player learns to skate, turn, and stop on the ice. During this developmental period and indeed throughout an entire hockey career, the most important piece of equipment is the hockey helmet. If a hockey helmet doesn't fit properly, it means it's not protecting your child's most valuable asset: their head.
At Source For Sports, we take head safety very seriously, and Helmet Fitting is a year-round service we offer so that your child can have a properly fitted hockey helmet at all times. Regardless of where you purchased your hockey helmet, we will assess the fit of your child's helmet at no charge, and can make any necessary adjustments in-store.
It's important to understand that a hockey helmet can't be grown into; it must fit for the current season and fit snug without much movement if any. Although you may have a hand-me-down helmet, the most important consideration should be that it fits your child's head. Heads come in all different shapes and sizes; what is good for one child may not fit another, and therefore there are several factors to consider to get a proper fit.
Source For Sports Ensures a Properly Fitted Hockey Helmet Using Our Pro-Formance Advantage Helmet Fitting System
Bring your child with their helmet into Source For Sports, and our team will go through the following steps to ensure the right fit:
First, put the helmet on. They'll make sure your child feels comfortable and that the helmet itself doesn't move around on their head (if a helmet is loose, it won't absorb any shock from impact and the padding will not be on the areas of the head they are meant to protect). From here, adjustments can be made while it's on the head.
Ensure helmet fit. The helmet should fit snugly with one finger's width between your child's eyebrows and the helmet. The pads zones should cover the appropriate areas without shifting.
Add the right cage. The proper cage may not be the same size as the helmet since head shape doesn't always match face size. The top of the cage should align with the helmet's clips when the chin cup is fit snugly at the bottom.
Visit your nearest Source For Sports store for a complimentary helmet fit assessment for your child. Proper fit. It's a no-brainer.
---
For expert advice on hockey gear and equipment that is right for your game, level of play, and budget, come see us at your local Source for Sports hockey store near you. We Fit Your Game.
Sign Up for Source Nation Emails
Join Source Nation to get the latest news on product launches, Source Exclusive product lines, tips and tricks for parents and players, and more!