Dryland Training for Young Hockey Players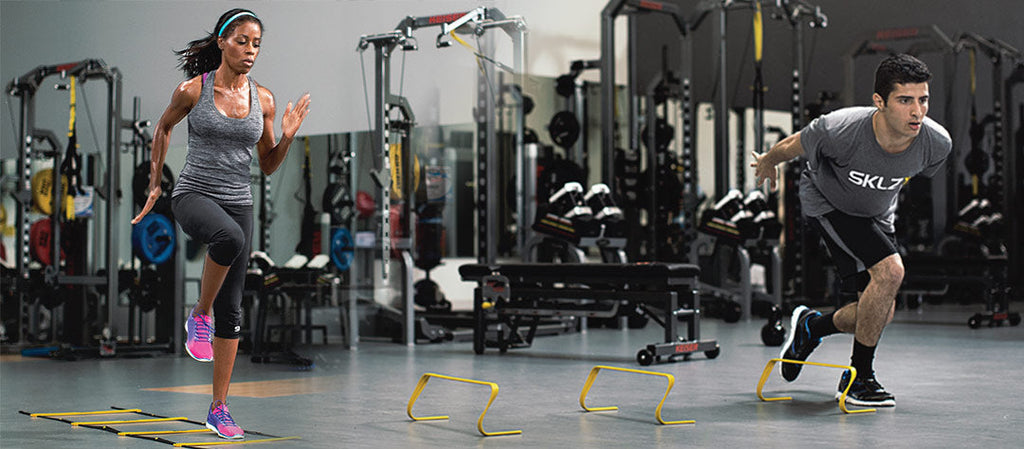 Dryland training should be intense and focused on developing flexibility, stability, strength, power, speed and conditioning.  A well-conditioned body not only increases your performance, but is also less prone to injury.

SKLZ offers several training tools that are specific to athletes who play hockey. Check out these tips and tools for Hockey Dryland Training;
Warm Up & Flexibility
Warming up and flexibility can be neglected elements in training, but it is important to include these exercises in your training program because they are the foundation of your body's movement. If your body is not flexible, you will be wasting energy with every stride you take on the ice and will be putting unnecessary stress on your body.
When warming up and trying to increase flexibility, be sure to focus on your hips, glutes and lower body, which all contribute to your skating stride.
The SKLZ Mini Bands are ideal for lateral movement exercises and offer 3 different levels of resistance.
Stability
Stability is not just core focused; as a hockey player it is critical you improve the stability of your hips, knees, ankles and shoulders. These joints work in sync to provide the balance and strength every player needs. Having stability can be your secret weapon for winning the puck battles in the corner and splitting the D.
Instead of doing planks, push-ups and pillar exercises separately, combine all exercises together and train at a new level with the SKLZ Core Wheels. The rolling wheels on each side destabilizes your movements, causing your shoulders, torso and hips to work harder. Core Wheels feature ergonomic foam handles, a lightweight design, and a training guide to get you started.
Strength & Power
If you want to elevate your game and increase your speed on the ice, focus on developing strength and power through resistance exercises and drills,
The COREFX Resistance Parachute and SKLZ Speed Sac allow you to maximize acceleration and top-end speed through progressive resistance and speed training. Resistance training helps you develop strength and power throughout your whole body.
COREFX Resistance Parachute targets upper body while the SKLZ Speed Sac drills target the lower body with resistance.
Linear and Multi Directional Speed
After building strength and power for speed, focus on Linear and Multi-Directional Speed drills. This will help you be the first one to the puck and the fastest player forwards and backwards on ice. Training with SKLZ 6X Hurdles, Reaction Ball, and SKLZ Elevation Ladder deliver great training for speed, agility, hand-eye coordination and balance techniques.
Quick feet, rapid change in direction, and body control can be mastered when using these training products.
Reaction Ball
Conditioning
Your goal is to have maximum stamina to play longer, faster and harder than your opponent. If you are a Superstar in the 1st period but too tired to go on in the 3rd, you need to focus more on your conditioning and stamina training. Implementing cardio with your training program will ensure great stamina during the whole game. Be sure to change up your pace and resistance during cardio to challenge and shock your body.
Shop All Training Gear
---
For expert advice on hockey gear and equipment that is right for your game, level of play, and budget, come see us at your local Source for Sports hockey store near you. We Fit Your Game.
Sign Up for Source Nation Emails
Join Source Nation to get the latest news on product launches, Source Exclusive product lines, tips and tricks for parents and players, and more!