The Importance Of Properly Fitting Hockey Equipment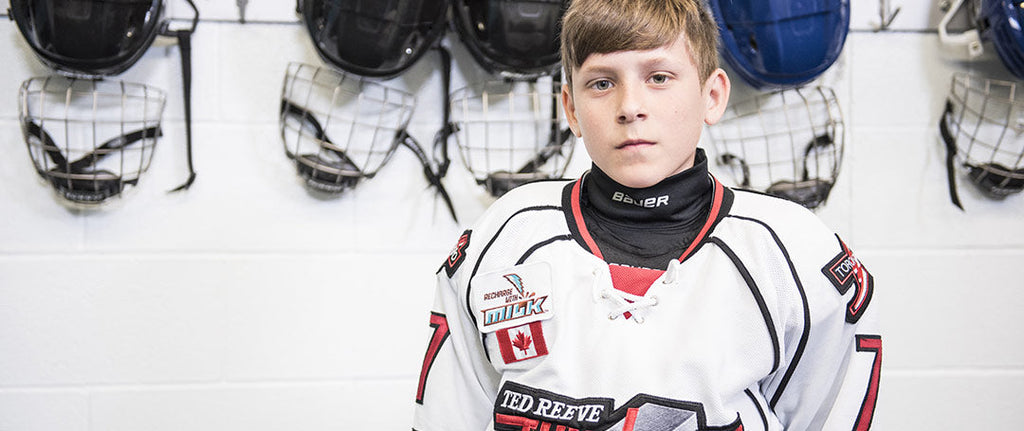 If you want to improve your performance on the ice, don't overlook the importance of your protective gear. A player who has full confidence in their equipment can really elevate their game because shot blocking, being first in the corner, and going into puck battles - those little things that coaches love - are all made easier when you're well protected in gear that fits you right.
Skates that have added features such as tendon guards, metatarsal guards and thicker felt tongues will protect against hard shots and skate cuts, but an added protective layer comes from a cut-resistant Kevlar sock. Some sock models include up to 45% Kevlar material that is blended with cooling technical fabric to help keep the feet cool and dry, as well as providing a comfortable fit.
Shin pads that add seamless protection from the skate tongue to above the knee must be neither too long nor too short. Whether you are a shot blocker or a flamingo, our Pro-Formance Advantage professionals will assess your leg type and playing style to ensure you have the right shin protection that integrates with both your skate and your pant.
Designed to cover from the knee right up to the lower rib area, hockey pants protect a large area of the body. Of course it's important to pad the thigh, hip and tailbone, but the right pant will ensure your internal organs are protected too, without compromising agility and flexibility. The risk of abdominal and quad strains, as well as sports hernias, can be reduced by using compression shorts for practice and games. Also, for those trying to return from a rib injury, a custom-moulded padded vest will assist in getting you back in the game sooner.
Gloves, elbow and shoulder pads should all work together so there are no gaps in hand, wrist, arm and shoulder coverage. Many players today are opting for a moisture management undershirt with built in cut-resistant protection for the formerly vulnerable neck and wrist area. Custom padded wrist guards are also useful for those seeking the ultimate in safety.
The most important piece of protective equipment is your helmet. At Source For Sports we take head safety very seriously. Although no helmet is concussion-proof, a proper fitting helmet will offer maximum protection on the ice. With the Pro-Formance Advantage Custom Fitting System, our fit professionals find the helmet that is best suited to your head shape and size, and your level of play. If required for your level, they will then install a face mask that properly supports and cups your chin and that aligns well with the helmet. Remember, the helmet that is right for you is the one that fits you the best.
For the Pros, Joes and I don't know's - Source for Sports will find the gear that fits their or your game.
---
For expert advice on hockey gear and equipment that is right for your game, level of play, and budget, come see us at your local Source for Sports hockey store near you. We Fit Your Game.
Sign Up for Source Nation Emails
Join Source Nation to get the latest news on product launches, Source Exclusive product lines, tips and tricks for parents and players, and more!