Top Questions About Protective Equipment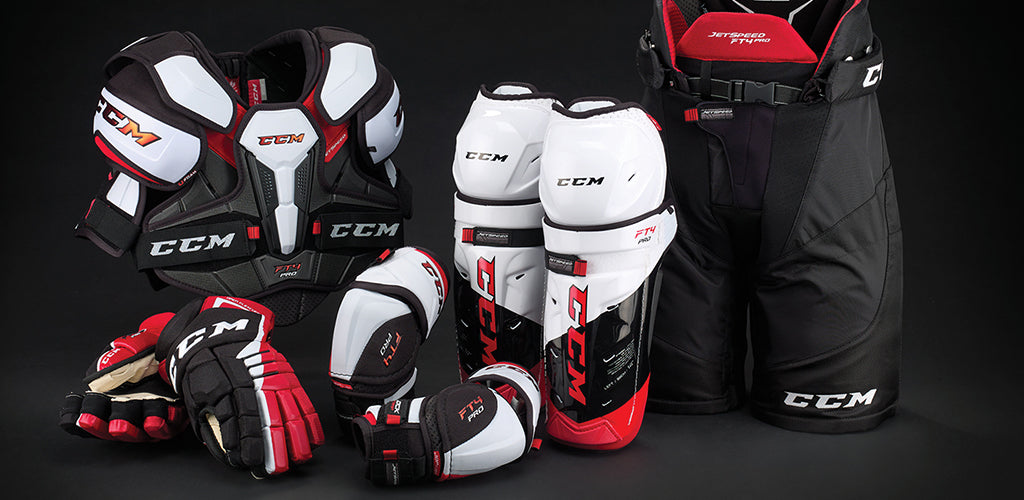 How Do I Find the Correct Fitting Helmet?
Finding the helmet that fits correctly is not only essential for comfort but for safety for the player as well. This is not an item you can buy 'to grow into' so each one of our staff at Source for Sport has been specially trained to know exactly what to look for when fitting you for your perfect helmet. To get started you can read over these 6 steps to finding the helmet that fits:
Measure your head
Check this measurement against the size range on the helmet box
Once you've selected the helmet, open it to the largest setting and put it on
The helmet is on! Make sure it's the right size!
It should sit about one finger width above your eyebrows and the occipital lock should sit on the occipital bone at the back of your head
Tighten the helmet - with a tool-free adjustment or a screwdriver - until it's secure
Find a fitting mask and chin guard
Ensure there's a finger width space. This may not be the same size as the helmet
Check the overall fit
Shake your head up and down and side to side ensuring the helmet isn't moving independently
For a more comprehensive article on fitting your perfect helmet visit our How To Ensure Your Child's Hockey Helmet Is Safe!
How Close to My Chin Should the Cup be in a Cage?
The chin strap should always be done up and the chin cup is meant to fit snugly and directly on your chin. Finding the right cage/mask is important to find a cup that fits perfectly.
Cage vs Full-Face Shield?
Whether you choose to go with a cage or full-face shield all comes down to preference but hopefully, this chart will help you identify which works best for you:
 

Pros

Cons

Cage

- Air flows freely
- Low maintenance

- Metal bars might affect your vision
- Heavier than a shield


Full-face Shield

- Clear, nothing obstructing your vision
- Generally lighter in weight

- Can fog up/collect moisture
- More expensive
- Needs to be well cared for to avoid scratches

How do I Fit a Hockey Glove?
When choosing a pair of gloves there are many factors to consider – fit, size, protection, mobility, and quality. Factors like brand and price range are important too, however, they should come secondary to the preceding factors.
Start by measuring the distance from the bend in your inner elbow to the base of your fingers
- Hockey gloves are measured in whole inches and 13" 14" and 15" are adult sizes, anything smaller is considered junior or youth
Next, choose a preferred fit – Snug, Mid or Wide fit
A few things to consider when trying on a glove
- you should have about ¼ of space in the fingertips
- your fingers should be comfortable and should line up fairly well with your knuckles
- the wrist break on the glove should line up with the underside of your wrist
Finding the perfect glove is mostly about preference, however, no matter which one you choose you will always have to be aware of wear and tear. Typically, the first thing to go on a glove is the palm of the glove, where you hold the top of the stick. To prevent this kind of extreme wear down on your gloves always make sure to dry them out after every use!
How do I Size a Hockey Shin Guard?
Hockey shin pads are designed to protect a player's legs from pucks, slashes, impacts and skate blades, and are an important part of the complete protection series. Choosing a size and model will vary based on your personal preferences, playing style and position, but will also need to integrate with your hockey skates and pants.
If you've ever been hit in the shin and felt that pain, you'll understand the importance of protecting your shins from getting slashed by sticks or hit with pucks. There are two main ways brands will identify sizing for shin pads – the first being from your height, the second being from measuring the actual length of your shin.  Both of these methods are a good starting point, however, the foolproof way to ensure you find the shin pad perfect for you is to simply try a bunch on. Use the following and points you'll know exactly what to look for in a shin pad
when standing up with knees slightly bent, the shin pad should cover your knee comfortably and reach just above your ankle bone
2 to 3 fingers should fit horizontally underneath the pad – at the bottom, front
Ask yourself: do you have a narrower or wider ankle?
Keep in mind with proper care and non-intensive use a shin pad can last 5+ years, so make sure to choose the right size now so you can get the use you deserve out of it!
For a more comprehensive look into finding the perfect shin guards read How To Fit Hockey Shin guards!
How Do I Know my Skate Size/Model?
This is no easy answer to this question and requires proper sizing and evaluation of every athlete's foot! Thankfully at Source For Sports, we have the Pro-Formance Advantage fitting system to help get you or your young player into skates that are right for your unique foot.
To learn more about our Pro-Formance Advantage System or visit your local Source For Sports to get fitted today!
How Long Should My Hockey Pants Be?
Properly fitted hockey pants will not only provide the protection you require but will also help you maximize your game by allowing you to move and skate around the ice to the best of your ability and without restriction.
When trying on your pants in-store try dropping down to your knees and checking the length from there – the edge of each leg should just touch the floor. When standing, the bottom of the pants should arrive on the kneecap or just a little bit higher. Pants that are too long will inhibit your stride as well as potentially get bound up with the top of your shin guards. You also want to avoid leaving too much of a gap between where your pants end and shin guards start.
Check your range of motion while lunging in-store to mimic your skating stride. Don't worry if you're expected to grow this season! Many models have an extension fit, allowing for approximately 1 inch of extra adjustable length.
Still unsure? Considering reading our more in depth article on How to Fit Hockey Pants
How Do I Find the Right Fit For Shoulder Pads?
Shoulder pads are designed to cover most of the torso and include extra padded foam to protect specific areas that are at high risk for injury.
Properly fitted shoulder pads will provide protection for the following areas:
Belly and kidneys with extra foam padding
Chest, collarbone, and sternum with front chest protector and foam
Back and spine with full coverage and reinforced foam along the spine
Biceps and shoulders with injected caps with foam inserts and detachable/floating bicep guards
Shoulder pad sizes are based on the circumference of the player's chest. Using a loose measuring tape, trying to measure all the way around the player's chest to get an initial size. Many stores will have sizing guides to help you go from there.
For a more comprehensive look into finding the perfect shoulder pads visit our website to find a blog outlining this information in more detail. To talk to one of our Pro-Formance Advantage specialists visit in-store!
What Elbow Pads Do I Get the Most Protection With?
This is a question of fit more than model! Often times, you will get the level of protection you pay for: pay for a lower end – beginner's elbow pad and that's the protection you will receive. However, on the contrary, if you pay a little extra for the mid-level to high-end elbow pads you will be protected for a higher caliber game! To be sure you're getting the most protection, always find the padding that fits you properly and best.
To read up on how to fit your elbow pads properly visit our website, or to speak to a Pro-Formance Advantage fitting expert visit your local Source for Sports!
How Do I Choose a Neck Guard Size?
The most accurate way to choose the right neck guard size is to measure the circumference of your neck and apply it to a sizing guide included at many stores, or on the packaging of the neck guard. Remember, neck guards should be fitting snug but never uncomfortably tight – they should be covering your throat completely. Once you choose a size, it is best to try it on in-store to ensure ultimate comfort and satisfaction!
---
Did we miss something you still have questions about? Share with us on Facebook & Instagram
Sign Up for Source Nation Emails
Join Source Nation to get the latest news on product launches, Source Exclusive product lines, tips and tricks for parents and players, and more!