Women's Hockey Equipment Explained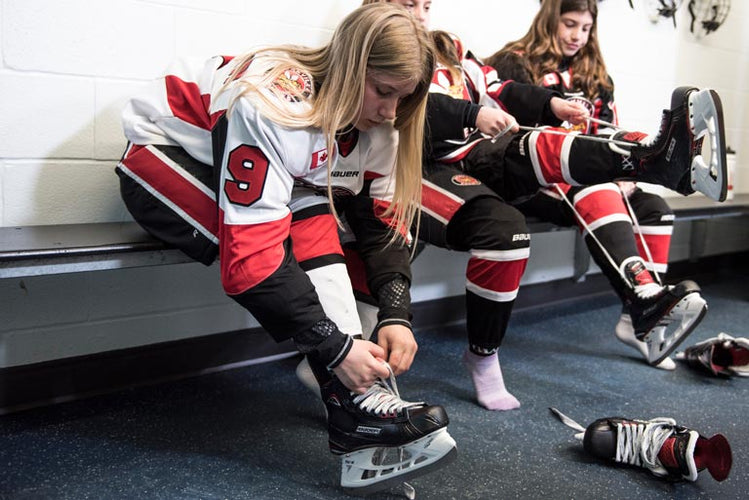 The Rise of Women's Hockey
Women's ice hockey premiered as an Olympic sport at the Olympic Games in Nagano, Japan in 1988. The popularity of women's hockey soared afterwards, creating a new category of player with specific equipment needs.
All hockey players are in equipment from head-to-toe. Although hockey is still a male dominated sport, there are obvious physical differences between men and women which have prompted some hockey manufacturers to revise their equipment lines to include female-specific gear as well as more variations in junior sizing.
Equipment Designed for Women
Women's shoulder pads are an obvious piece of equipment that are shaped differently. Men's shoulder and chest protectors are designed with a flat front, whereas women's shoulder pads have molded cups to accommodate larger chests and are designed to create a close fit with no shifting of the equipment during play. Fit is important to protect the sternum and spine and the key is to make sure that shoulder pads contour your body snugly, as well as integrate with your pants.
Women generally have wider hips and shorter torsos than their male counterparts. Female-specific hockey pants (like the Nexus N9000 women's pants and the Vapor X800 women's pants) are roomier through the hips and have a shorter hip guard at the top of the pant to properly protect the kidney area. A longer inseam on models ensures that the pants fit snugly from the groin to above the knee.
Pelvic protectors are the most common piece of equipment that are designed for women athletes and provide protection for this area from sticks and missed shots. Hockey pants normally do not have padding in the groin area, therefore every level of player should use a "jill" to avoid injury.
Junior sized sticks are generally more flexible than adult sticks and can create the whip necessary to shoot with power. The smaller shaft can fit better in a woman's smaller hand. Gloves that are often designed for a junior player in 12" and 13" sizes usually fit women as they have shorter fingers, smaller palms and a shorter cuff.
The Perfect Fitting Skate
There are no specific skates made for women, and often female hockey players will use a junior sized skate. Most women have a higher instep and insoles, such as the Superfeet Pro-Formance Advantage yellow skate footbed or Superfeet Carbon Pro Hockey Insole, will help position and support your arch and heel within the skate for stability and energy transfer.
As a female hockey player, it is extremely important that you have a professional fit you for your hockey equipment. At Source For Sports, we have the expertise and the Pro-Formance Advantage Custom Fitting System to ensure that you are properly protected and in gear that will elevate your game.
You go, girl.
---
For expert advice on hockey gear and equipment that is right for your game, level of play, and budget, come see us at your local Source for Sports hockey store near you. We Fit Your Game.
Sign Up for Source Nation Emails
Join Source Nation to get the latest news on product launches, Source Exclusive product lines, tips and tricks for parents and players, and more!